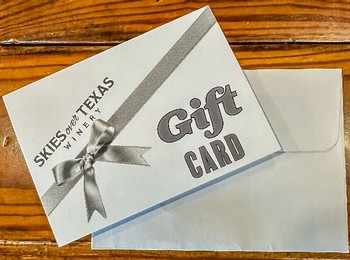 $100 Gift Card
Personalized and Mailed
Our Personalized Gift Cards allow your loved ones to choose exactly what they want, ensuring that your thoughtful gesture turns into the perfect present. Plus they will be mailed by USPS.

These can be used for any items both at the winery or online (we only ship in Texas).
---
These will be mailed and emailed. Enter the recipients email address in the Shipping Email Address field.
What You'll Receive
After you purchase the gift card, you will receive an order confirmation to your email regarding the gift card purchase.
What the Recipient Receives
They will receive an email stating that you purchased a gift card for them.
This email will include a message (if entered) as well as the unique gift card code that they can use to purchase from the website or in the tasting room.